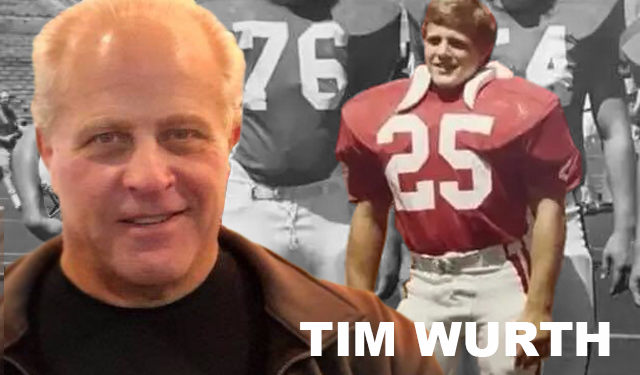 Former Husker Running Back, 1976 World-Herald boys athlete of the year and Nebraska Greats Foundation recipient Tim Wurth passed away on Friday, April 29, 2022.
Wurth was known as a tenacious football player who had a career total of 766 yards and seven touchdowns. Wurth lettered at NU in 1977 to 1979. He is also in the Omaha Public Schools Athletic Hall of Fame.
Zac Wurth wrote on Facebook; "It is with great sadness we announce the death of our beloved dad, Tim. We have had many people reach out and ask what they can do to support us. We ask that if you would like to do anything please support the Nebraska Greats Foundation that helped him in his time of need."
Without insurance, Wurth applied for a grant from the NGF seeking assistance with Cataract surgery stemming from Type II Diabetes. Wurth also needed assistance with multiple hospital stays as a result of chronic neuropathy.
The Nebraska Greats Foundation's singular mission is to help former college athletes – both men and women – from any school in Nebraska in their times of medical need. Your gift today will directly help someone who urgently needs it and will greatly appreciate it. They once gave their all for their schools, their teammates and us. Let's return the favor.
---
ONE-TIME DONATIONS
---
MONTHLY DONATIONS
---
MAKE A DONATION IN SOMEONE'S NAME OR MEMORY
---
In order to make an offline donation we ask that you please follow these instructions:
Make a check payable to Nebraska Greats Foundation
On the memo line of the check, please indicate that the donation is for Nebraska Greats Foundation
Please mail your check to:
Nebraska Greats Foundation
5010 Underwood Ave
Omaha, NE 68132
All contributions will be gratefully acknowledged and are tax deductible.
Gifting Stock to Nebraska Greats Foundation: If you are gifting stock to Nebraska Greats Foundation please make sure your advisor or broker has the following wiring instructions: DTC ID #0235 for further credit to Nebraska Greats Foundation Account #323-53136 at RBC Wealth Management.
Please contact Brook Wimes (402) 465-3826 or brook.wimes@rbc.com with questions or assistance.